Ingredients: Refined Vegetable Oils (Sunflower Seed Oil). Contains Allergens: None Made in South Africa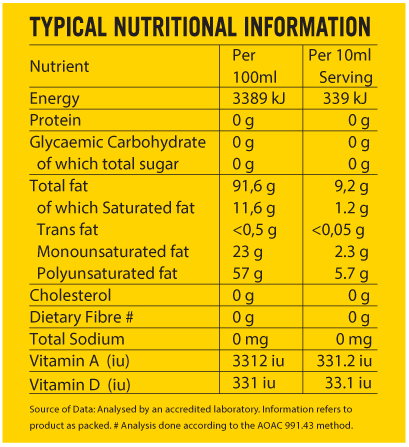 Our farmers carefully pick the best quality sunflower seeds to create SunPick – Our premium pure sunflower seed oil. Perfect for cooking, baking, frying, sauces and salads, it is naturally cholesterol free and is fortified with Vitamins A & D.
FEATURES:
Ideal for the use in cooking, frying, baking and salads.
Additive and allergen free.
Available in various pack sizes.
Available in bulk.
BENEFITS:
High in polyunsaturates
Rich in Omega 6 Essential Fatty Acids

STORE IN A COOL, DRY PLACE AWAY FROM DIRECT SUNLIGHT